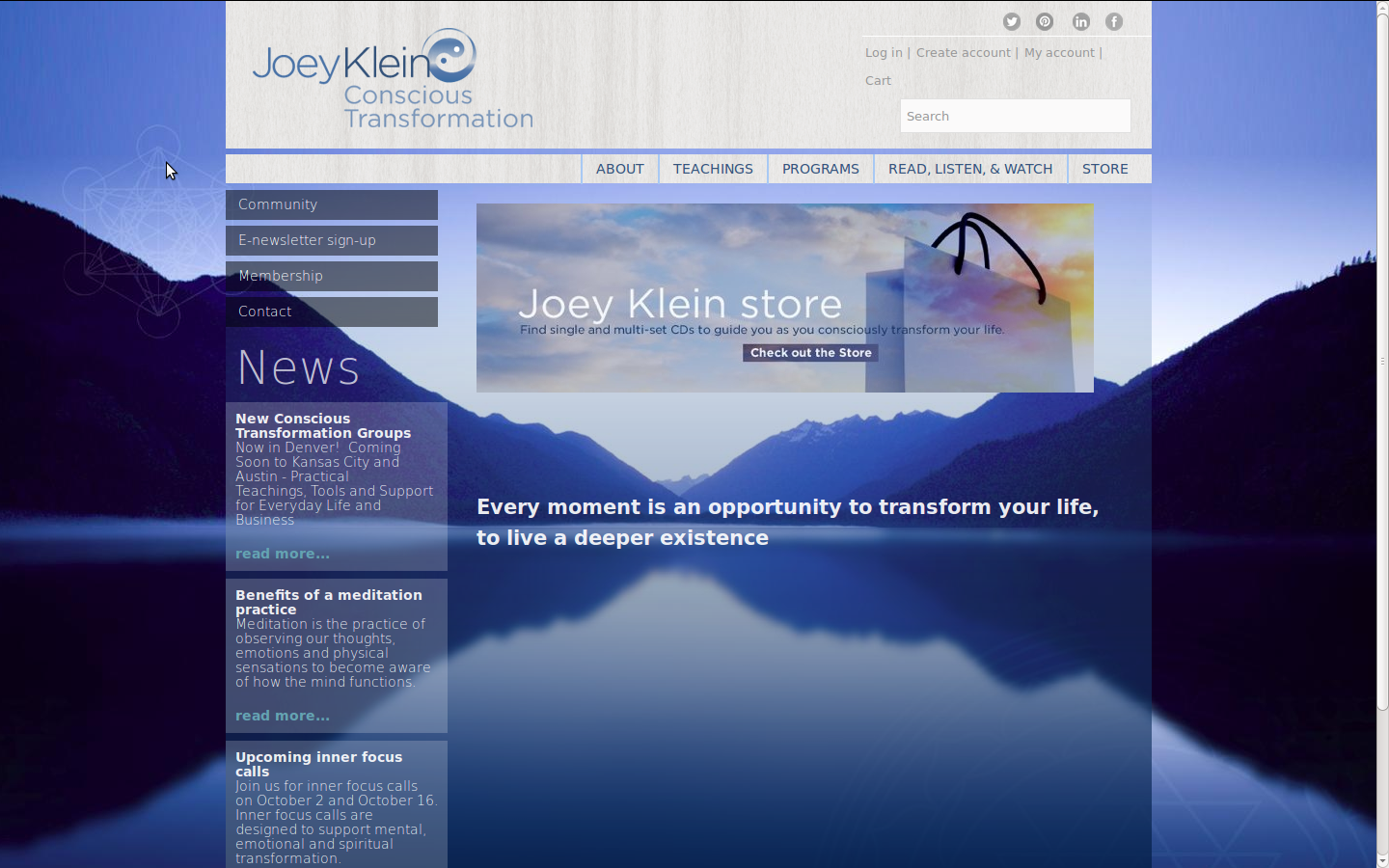 The Project
Joey Klein's team approached Freelock to "rescue" their website. Through the course of their planning stages, the original developers found that they had reached a point where they did not have the capacity or expertise to complete the project as agreed upon.

The new site was a total rebuild that combines features from three of Joey Klein's then current domains along with implementing a totally new site design.
Customizations
At its core most of the Joey Klein site was a fairly straightforward set of informational pages and a few lists of articles and media files to give users an introduction to the organization.

There were, however, two areas of significantly larger complexity:

First, Joey Klein has two types of recurring products (Memberships and Inner Focus Call subscriptions). At the moment the recurring payments infrastructure for Commerce/Drupal 7 is somewhat underdeveloped and we needed to provide some custom code to make those kinds of transactions functional.

Second, we needed to provide Joey Klein with the ability to post a series of events and accept paid registrations for those events. The old system they were using let them create event registrations but had very poor filtering to help users find the programs they were interested in and had poor support for administrative documentation (like lists of registered users) to ease on the ground activities at the actual events.
Timeline
Joey Klein originally requested 6 weeks to create a new website based on the details agreed upon with the original developer. Through the course of our planning this deadline began to look more and more unrealistic.

Joey Klein realized there wasn't enough space in their original time table for them to review all the site functionality or load their own content we agreed to push the deadline.

Excepting some bug clean up uncovered during the clients' review we were feature complete within the original timetable. In the time between then and launch a few of the staff users from Joey Klein spent time loading content and cleaning up the draft language we put in place during development.
Including the time for Joey Klein's team to upload content and gain final approval, the project took about 3 months.